The health of your teeth is what is most important but many people agree that the appearance of your teeth should never be overlooked. Your smile may be one of the first things that a person notices about you. And you probably want them to notice you for your bright, healthy smile, not because of yellowing or broken teeth.
Cosmetic dental procedures can range from the simple, like teeth whitening, to the complex, like gum surgery. Although similar to many restorative dental procedures, cosmetic ones differ because there is a larger focus on vanity and in achieving the "perfect" results as considered by each patient.
If you have uneven teeth, meaning perhaps a chipped tooth or teeth sitting at different heights, you may be interested in having your teeth contoured. This is a process where a dentist uses a drill to gently file down and sculpt your teeth – don't worry, tooth enamel itself has no nerves so you won't feel any pain. This is generally a quick procedure and can give amazing results. If your teeth have greater imperfections than what tooth contouring can fix, then you may also use it in conjunction with another method such as having veneers placed on.
Teeth whitening is a very common form of cosmetic dentistry. You have probably noticed all the home whitening kits available, as well as all the whitening toothpastes on the market. If you want a truly white smile though, having your teeth professionally whitened is the best route. Also, you will avoid the extreme tooth sensitivity that many at-home kits can cause.
Some people love the gap between their teeth, others would prefer their teeth be perfectly straight and gap-free. Whatever bothers you about your teeth, it is fixable! Even if you fear that your teeth are beyond repair, then dental implants are an option. If your confidence is suffering at all from your smile, we welcome you to take advantage of the many treatments offered through cosmetic dentistry.
Dr. Jomha recently had the opportunity to travel to Carlsbad, California to train at the ZimVie Institute. As a practitioner who places implants, he was eager to learn advanced techniques in order to provide the best possible care for his patients. During the course, Dr. Jomha and his colleagues learned how to place and restore…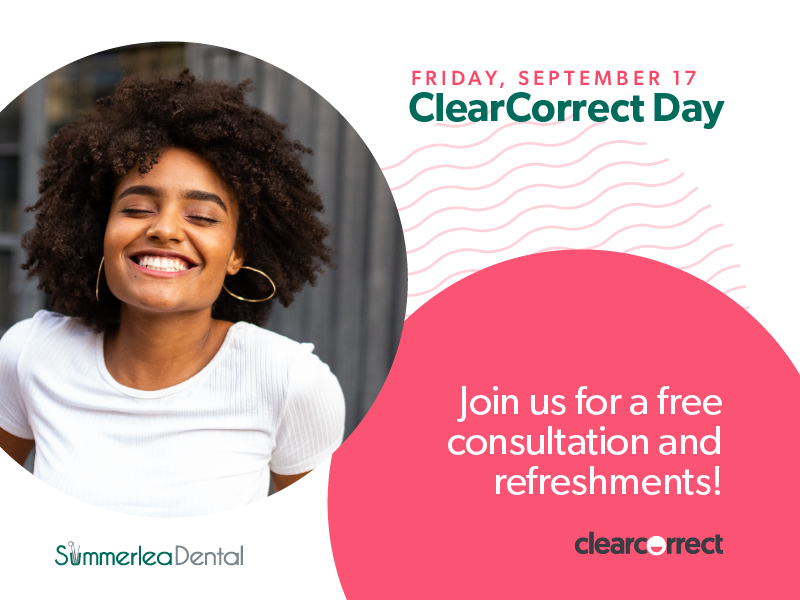 BOOK YOUR SPOT.  LIMITED AVAILABILITY Your journey to a straighter smile starts now. Join us at Summerlea Dental on Friday, September 17, 2021, for ClearCorrect Day. Our team will be offering complimentary ClearCorrect consultations, scans, snacks, and refreshments all day long. Book Your Complimentary Consult – Save your spot: mobilebooking.summerleadental.com Learn More about how ClearCorrect…