Teeth have always been around. So it makes sense that dentistry is almost as ancient as humanity itself. In fact, the word dentistry originates from an Ancient Greek term, odontology (from the Greek odoús, meaning tooth). There is evidence of drilling teeth as a remedy for toothache and enamel removal dating back over 9000 years ago. Researchers discovered proof of this in a graveyard in Pakistan, along with the flint drill heads that were used for the ancient procedure.
The field of dentistry has, of course, continued to evolve with us. An excerpt from a Sumerian text (dating 5000 BC) mentions a "tooth worm" as the cause of some dental trauma. An ancient Egyptian named Hesy-Re is recognized as the first "dentist" of history in 2600 BC. Aristotle (~330 BC) writes about tooth decay, extracting teeth, and using wires to correct and steady them. The path of dentistry continued to slowly advance in this fashion as we continued through the Middle Ages and into the 18th Century.
It was during the 1700s when the science of dentistry truly began to grow and change into something similar to the industry that we see today. Pierre Fauchard is considered the "father of modern dentistry" – he was a skilled surgeon but, perhaps more importantly, he wrote a book entitled The Surgeon Dentist which was the first of its kind to describe the complicated processes of dentistry, from oral anatomy to surgical techniques.
The world of dental health progressed quickly from here; in the 19th Century, it changed from a trade to a government-regulated profession. Harvard founded the first Dental school. Patents were created for many different dental machines and tools. Even toothpaste changes from being a liquid or powder to the gel-like substance that comes in tubes that we still currently use. And who can overlook the invention of the reclining dental chair!
Now, here we are in the 21st Century. We have come an incredibly long way from the flint dental drills. The art of oral hygiene is just that: an art. Teeth are not put to the side like they may have been thousands of years ago; our oral health is an incredibly important part of our overall health. With the ancient techniques behind us and a world of modern dentistry continuing to evolve before us, it is now easier than ever to learn and practice the very best in oral care techniques.
Dr. Jomha recently had the opportunity to travel to Carlsbad, California to train at the ZimVie Institute. As a practitioner who places implants, he was eager to learn advanced techniques in order to provide the best possible care for his patients. During the course, Dr. Jomha and his colleagues learned how to place and restore…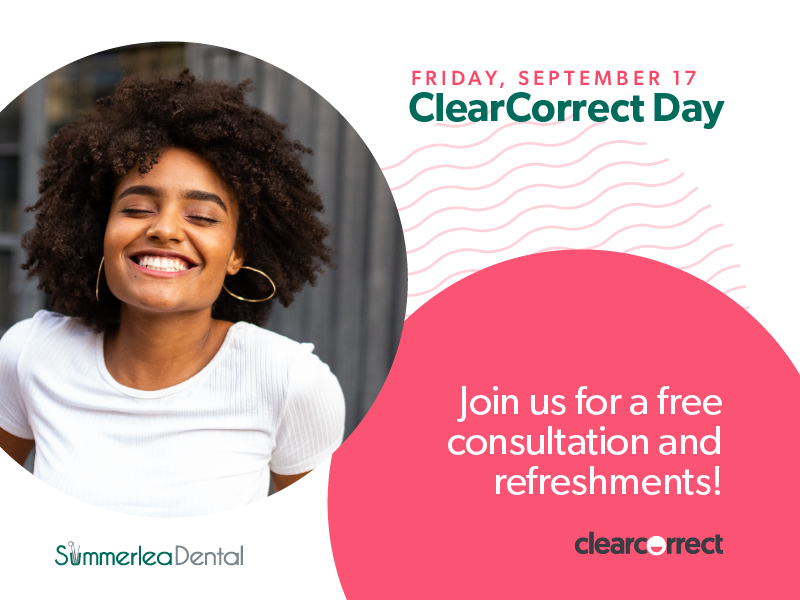 BOOK YOUR SPOT.  LIMITED AVAILABILITY Your journey to a straighter smile starts now. Join us at Summerlea Dental on Friday, September 17, 2021, for ClearCorrect Day. Our team will be offering complimentary ClearCorrect consultations, scans, snacks, and refreshments all day long. Book Your Complimentary Consult – Save your spot: mobilebooking.summerleadental.com Learn More about how ClearCorrect…