Caring For Your Dental Implants
You always hear about how important it is to take care of your teeth and your oral hygiene and when you have dental implants that is no different. In fact it may be more important to take proper care of your dental implants, simply because of the amount of time and money you have invested into them. While nothing comes close to having your natural teeth in some cases dental implants are unavoidable and just as important.
You want to treat your implants as you would your natural teeth, brushing them daily and even flossing. This will help protect your gums and the rest of your mouth from harmful bacteria that can cause infections, gum disease and foul breath.
Taking proper care of your dental implants may take a little trial and error and practice to get used to it, the care routine needed for dental implants is a little different than that of typical natural teeth and oral hygiene. You want to be sure to get under the implants clean as well as the tops, sides and in between. This is where the floss and small rubber tipped brushes can come in handy.
When you first get your dental implants you should sit down and speak with your care provider on how to properly care for your new "teeth." Some helpful tips to keep in mind when thinking about proper dental implant care;
• The toothpaste you use should be low-abrasive to protect the implants from scratches.
• Avoid Fluoride, baking soda, stain removers, and even smoker's toothpaste
• Consider purchasing a water flosser to help keep those new implants in tip top shape.
You want to be careful with the types of products used, if you break down the protective layer on your implants they will have an increased risk of corrosion which can become costly to fix or repair and lead to unwanted visits to the dentist.
When in doubt ask your provider about specific products or routines that will help protect your new investment. Play it safe, these may be the last dental implants you ever have to purchase if you take care of them properly.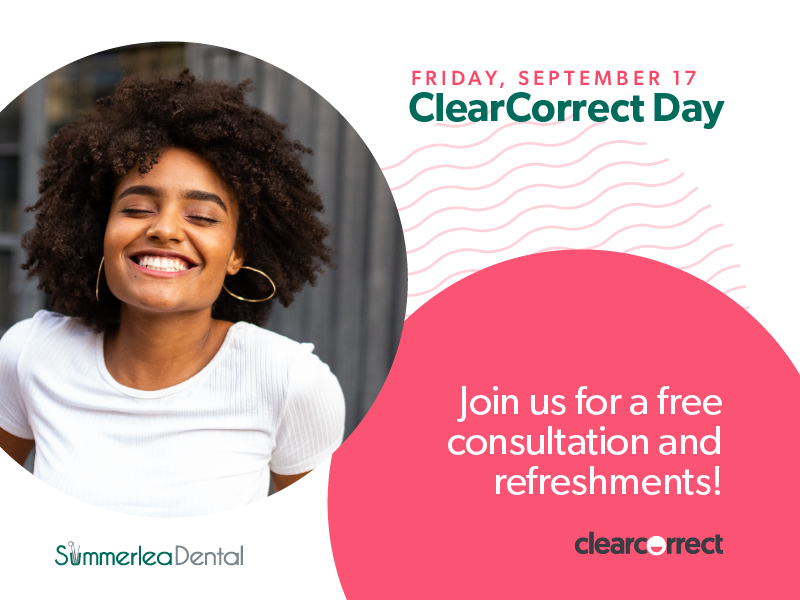 BOOK YOUR SPOT.  LIMITED AVAILABILITY Your journey to a straighter smile starts now. Join us at Summerlea Dental on Friday, September 17, 2021, for ClearCorrect Day. Our team will be offering complimentary ClearCorrect consultations, scans, snacks, and refreshments all day long. Book Your Complimentary Consult – Save your spot: mobilebooking.summerleadental.com Learn More about how ClearCorrect…
So, Your Dentist Says You Need a Crown First off — DON'T PANIC! Your dentist isn't trying to ply more money out of your pocket, he/she is legitimately trying to protect your teeth to ensure you have long lasting, structurally sound chompers. But what ARE crowns, and why do you need one? …