When a Child Should See a Dentist
Your child's dental schedule.
0-2 Years old: Mom/Dad should be brushing childs teeth twice a day and visually checking for any black spots or swelling of gums. If there are any concerns they should book an appointment.
2 Years Old: "FUN VISIT". Child should be booked for a first visit. They will ride in the chair, see some dental instruments, and have their teeth counted and checked. No cleaning, no xrays, no needles! We want this to be a good first experience for the child, this ensures they will come back 🙂
3+ Years: First dental check-up and cleaning. At this appointment your child will have their teeth checked and cleaned. Depending on your child, they may also have xrays taken at this appointment and possibly scaling if your child has any calculus/tartar.
After this, we recommend that your child be seen every 6 months until all of their adult teeth come in. This is important so that we can detect any problems early on and treat them before more extensive problems form. After that, your dentist will decide if your child needs to be seen every 6 or 12 months.
Dr. Jomha recently had the opportunity to travel to Carlsbad, California to train at the ZimVie Institute. As a practitioner who places implants, he was eager to learn advanced techniques in order to provide the best possible care for his patients. During the course, Dr. Jomha and his colleagues learned how to place and restore…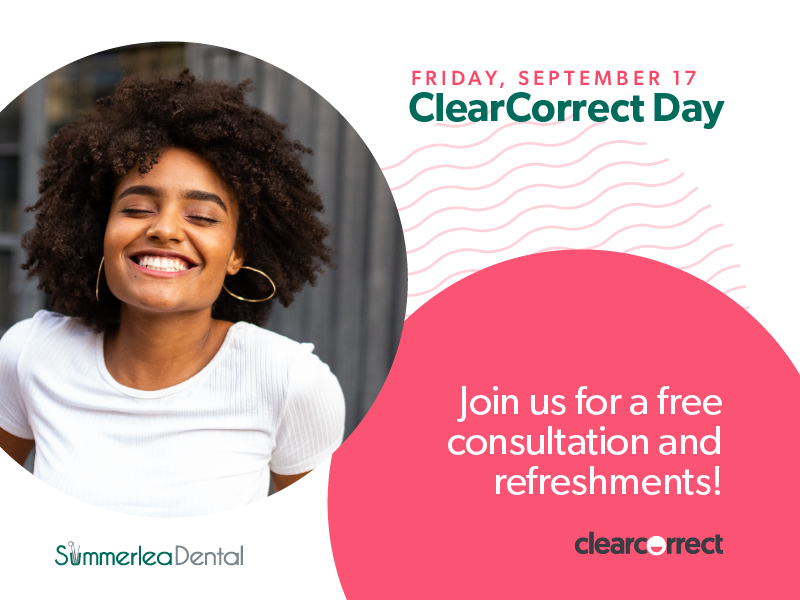 BOOK YOUR SPOT.  LIMITED AVAILABILITY Your journey to a straighter smile starts now. Join us at Summerlea Dental on Friday, September 17, 2021, for ClearCorrect Day. Our team will be offering complimentary ClearCorrect consultations, scans, snacks, and refreshments all day long. Book Your Complimentary Consult – Save your spot: mobilebooking.summerleadental.com Learn More about how ClearCorrect…