Fillings to Close Food Traps
Patient presents with a food trap between two of his teeth.  There is a cavity between the teeth.
The image of the left if from above.  We can see how food would get impacted when the patient eats.  The image on the right if from the side of the teeth to show the gap in between.
I used a section matrix called the V3 ring system by Triodent.  It is a curved matrix to help replicate the natural contour of teeth.  The ring helps separate the teeth the hold the filling material in tight.
Here are the after pictures.  This is immediately after removing the ring and matrix.  I still need to do some polishing and finishing.  Notice how the gaps have been closed from the top and side view.  I brought the patient back after a week and no more food trap!  The patients gingiva (gums) were also healthier as a result of not having food impaction.
Dr. Jomha recently had the opportunity to travel to Carlsbad, California to train at the ZimVie Institute. As a practitioner who places implants, he was eager to learn advanced techniques in order to provide the best possible care for his patients. During the course, Dr. Jomha and his colleagues learned how to place and restore…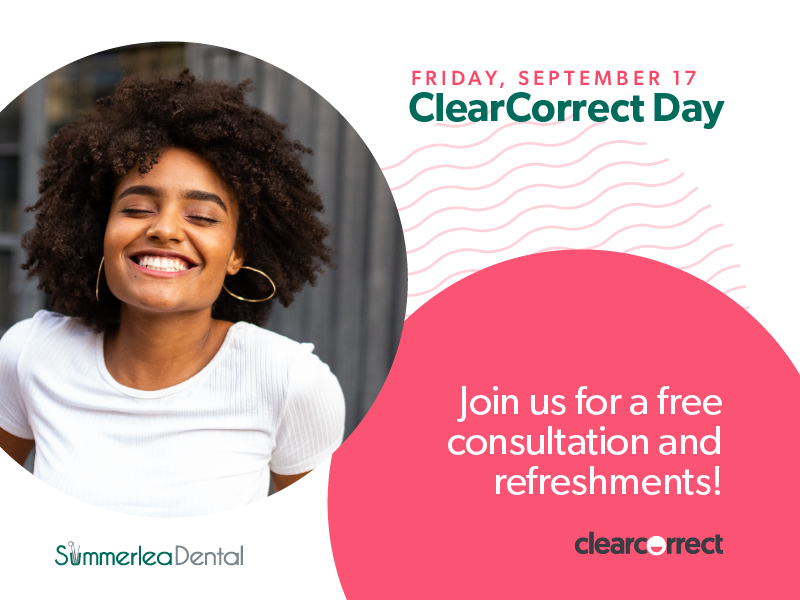 BOOK YOUR SPOT.  LIMITED AVAILABILITY Your journey to a straighter smile starts now. Join us at Summerlea Dental on Friday, September 17, 2021, for ClearCorrect Day. Our team will be offering complimentary ClearCorrect consultations, scans, snacks, and refreshments all day long. Book Your Complimentary Consult – Save your spot: mobilebooking.summerleadental.com Learn More about how ClearCorrect…