Replacing missing teeth is important to your general health and to the health of your other teeth. Not only do you lose chewing capacity when a tooth is lost, but by not replacing your teeth can cause other teeth to be lost, tipped or crowded and create subsequent problems. There are also the obvious problems of poor appearance and loss of self-esteem caused by one or more missing teeth.
Surgeries to repair joints like ankles and knees have some commonalities to dental implants. To make the repair permanent and solid, titanium-alloy screws are used to prevent any further injury from happening. These screws are placed into the jawbone and used as the foundation to support artificial teeth. Titanium is one of the most bio-compatible materials and allows for a process known as osseointergration where the bone fuses onto the implant surface and locks it in place. This is what gives dental implants their great stability and allows them to function as replacements for missing teeth.
This process occurs during healing and requires several weeks to a few months to occur depending on various factors. Implants can be used to replace one, several or all teeth in the mouth by supporting single crowns, bridges or complete dentures. Your dentist may refer you to a specialist who has further training in this area for this procedure.
Periodontists are experts in the surgical aspect of dental implant placement and are also uniquely positioned to help you maintain your implants and the adjacent gums in a healthy state. Long-term follow-up care including good oral hygiene are critically important in maintaining your implants for a lifetime.
A dental implant is an ideal solution for a single missing tooth. When both a tooth and root are damaged, the ideal permanent replacement is a dental implant in conjunction with a ceramic crown — the procedure is simple and virtually painless. A dental implant looks and functions just like a natural tooth and can enhance your self-esteem by providing a healthy and brighter smile.
Dental implants are often used to replace several missing teeth. Replacing your missing teeth can give you unparalleled strength and stability allowing you to eat what you want — a fixed bridge can be cemented to two or more dental implants.
Dental implants will also preserve your facial appearance and prevent further bone loss adjacent to the missing teeth. If several teeth are missing in the back end of the mouth, the only truly stable alternative would be a fixed bridge supported by dental implants. Removable dentures cannot offer the same stability or function as dental implants can.
Dr. Jomha recently had the opportunity to travel to Carlsbad, California to train at the ZimVie Institute. As a practitioner who places implants, he was eager to learn advanced techniques in order to provide the best possible care for his patients. During the course, Dr. Jomha and his colleagues learned how to place and restore…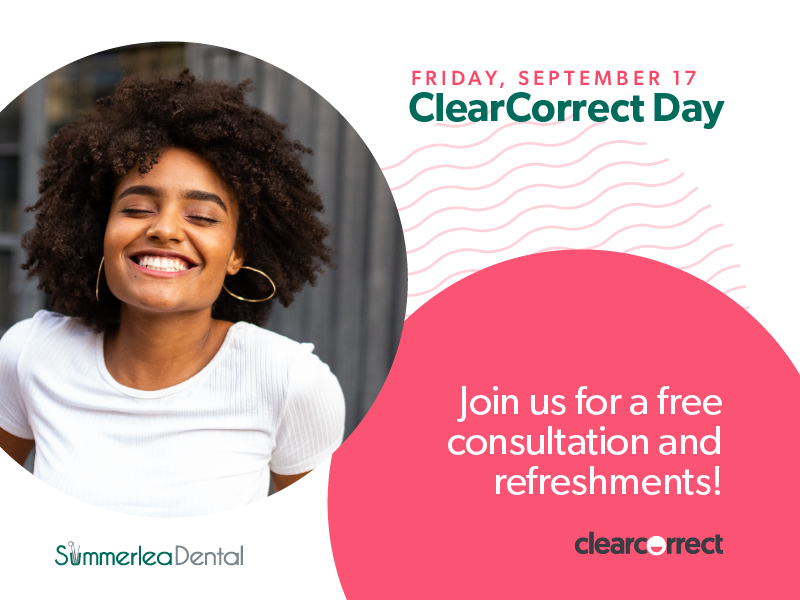 BOOK YOUR SPOT.  LIMITED AVAILABILITY Your journey to a straighter smile starts now. Join us at Summerlea Dental on Friday, September 17, 2021, for ClearCorrect Day. Our team will be offering complimentary ClearCorrect consultations, scans, snacks, and refreshments all day long. Book Your Complimentary Consult – Save your spot: mobilebooking.summerleadental.com Learn More about how ClearCorrect…