Believe it or not, if you take care of your teeth properly, they'll last a lifetime but sometimes things happen and you might need help in keeping your pearly whites in good shape.
Your dentist may recommend a procedure or treatment to restore or replace a tooth that has been lost or damaged or to improve the appearance, health and function of your teeth — some of these procedures are straightforward while others are more involved.
Here are some different treatments and procedures available to keep your smile healthy and you in the best of spirits.
Dental bonding and veneers make your teeth look better by changing their colour, shape or spacing. Veneers are thin shells of porcelain that cover the fronts of teeth and bonding is a cosmetic dentistry technique that uses a composite resin to mask teeth imperfections.
Bridges and dentures are 2 ways to restore a badly damaged tooth or replace a lost tooth. A bridge is a fixed dental restoration or prosthesis used to replace a missing tooth or several teeth by joining an artificial tooth permanently to adjacent teeth or dental implants.
If your tooth is damaged but not lost, a crown, or also known as a cap, can be used to cover the damaged part of your tooth — protecting your tooth from further damage.
Dental implants are used to replace missing roots and support replacement teeth.
There are several different types of fillings that can be used to fill a cavity but the final decision on which type of filling is placed in your mouth is yours alone.
Orthodontic treatment uses braces or other appliances to put gentle pressure on your teeth and eventually move them into the right position — they can either be fixed or removable.
Root canal treatment is the process of removing the infected, injured or dead pulp from a tooth.
Oral cancer starts in the cells of the mouth, tongue or throat so cancer screening is usually a routine part of a dental examination. In this exam, your dentist will feel for lumps or irregular tissue changes in your neck, head, face, and inside your mouth — they will also look for sores or discoloured tissue in your mouth.
Although teeth are not naturally meant to be completely white, many people want a brighter smile. Responding to this desire, a wide range of whitening options has become available.
Dr. Jomha recently had the opportunity to travel to Carlsbad, California to train at the ZimVie Institute. As a practitioner who places implants, he was eager to learn advanced techniques in order to provide the best possible care for his patients. During the course, Dr. Jomha and his colleagues learned how to place and restore…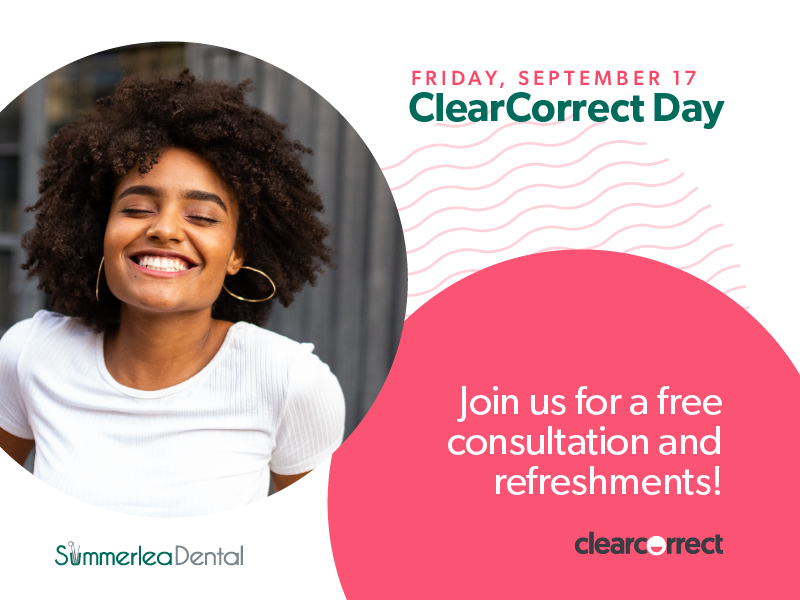 BOOK YOUR SPOT.  LIMITED AVAILABILITY Your journey to a straighter smile starts now. Join us at Summerlea Dental on Friday, September 17, 2021, for ClearCorrect Day. Our team will be offering complimentary ClearCorrect consultations, scans, snacks, and refreshments all day long. Book Your Complimentary Consult – Save your spot: mobilebooking.summerleadental.com Learn More about how ClearCorrect…