Interview: Common Questions About Dental Implants
Dr. Taha H. Jomha is a dentist and has answered some of the common questions Bizymoms visitors have about Dental Implants.

Q. What are dental implants?
A. A dental implant is a tooth replacement which mimics a natural tooth.  It consists of two parts: 1. the titanium implant and 2. the crown which is attached to it.  The implant is situated within the jaw and the crown sits above the gum.
Q. What are the benefits of dental implants?
A. Implants are the best option for replacing a single tooth because they do not interfere with the surrounding teeth.  A bridge requires the shaving down of healthy teeth and a partial denture puts extra forces on adjacent teeth.  A dental implant truly mimics a tooth in that it is designed just like a natural tooth.  The implant acts as the root and the crown as the tooth on top!  You can also floss and care for a dental implant just as you would a natural tooth.  The other main advantage is that in healthy patients a dental implant has a 98% survival rate over 10 years compared to a bridge which is about 70%.
Q. How long does an implant last?
A. Generally speaking the dental implant itself should last the patients entire life.  Patients want to avoid activities such as smoking as this would decrease the lifespan of the implant.  The crown on top of the implant is subject to the same wear and tear as natural teeth.  The advantage of having the implant as two components is the crown can always be replaced or repaired without removing the implant itself.
Q. What are implants made of?
A. Dental Implants are made of high quality Titanium.  This ensures strength, durability and compatibility with the bone and surrounding tissue.
Q. Who is a candidate for implants?
A. The best candidate for an implant is a healthy non-smoker.  Implants are not recommended for patients who smoke and for patients with uncontrolled diabetes.

Q. How are dental implants placed?
A. A small incision is first made in the gum tissue to expose the underlying bone.  A hole is made in the bone with progessivley larger drills.  Once that is completed the implant is literally screwed in.  An xray is taken to confirm that it is in the correct position.
Q. How long does it take?
A. From initial consultation to placement of the final crown it usually takes anywhere from 3 to 6 months.  A more specific timeline can only be given after a consultation.

Dr. Jomha recently had the opportunity to travel to Carlsbad, California to train at the ZimVie Institute. As a practitioner who places implants, he was eager to learn advanced techniques in order to provide the best possible care for his patients. During the course, Dr. Jomha and his colleagues learned how to place and restore…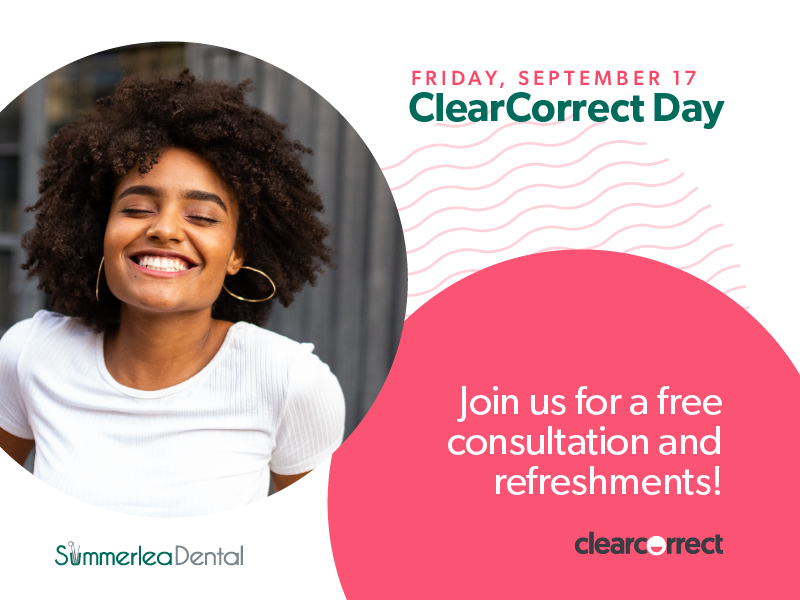 BOOK YOUR SPOT.  LIMITED AVAILABILITY Your journey to a straighter smile starts now. Join us at Summerlea Dental on Friday, September 17, 2021, for ClearCorrect Day. Our team will be offering complimentary ClearCorrect consultations, scans, snacks, and refreshments all day long. Book Your Complimentary Consult – Save your spot: mobilebooking.summerleadental.com Learn More about how ClearCorrect…