Foods That Are Good For Your Teeth
We all want to have a great smile and great smiles start with your teeth. A good oral hygiene routine is a great but that's not all you can do. We know certain foods can affect our teeth in a bad way but certain foods can also help whiten them as well — here are some to help with that winning smile.
Green tea contains polyphenol antioxidant plant compounds that reduce plaque and help reduce cavities and gum disease. Tea may help reduce bad breath and rinses can be made with herbal infused tea.
Milk and yogourt are good for teeth because they contain low acidity and they are also low in decay-inducing sugar. Milk is a good source of calcium, the main component of teeth and bones.
Cheese contains natural cavity-fighting agents as well as vitamins to strength the teeth and enamel like calcium and phosphate. These help balance pH in the mouth, preserves and rebuilds tooth enamel, produces saliva and kills bacteria that cause cavities and disease.
Some fruits and vegetables are natural abrasives and eating them scrubs your teeth in a natural and harmless way. Fruits such as apples, strawberries and kiwis contain Vitamin C — which holds cells together. If this vitamin is neglected, gum cells can break down, making gums tender and susceptible to disease. Vitamin A is found in pumpkins, carrots, sweet potatoes and broccoli — which is necessary for the formation of tooth enamel.
Crunchy vegetables such as cauliflower, broccoli and cucumbers may also help clean gums because of the increased chewing it takes to break it down. Onions contain antibacterial sulphur compounds — which kill various types of bacteria, especially when eaten raw. Celery protects teeth by producing saliva which neutralizes acid that causes demineralization and cavities and also massages the teeth and gums
Chewing on herbs like parsley, cilantro, and mint helps decrease odours caused by a buildup of bacteria. Seeds reduce plaque and help build tooth enamel and are also very high in calcium.
Water cleans the mouth and produces saliva that deposits essential minerals into the teeth and it keeps gums hydrated and washes away particles from the teeth.
Whole grains contain B vitamins and iron, which help keep gums healthy. They are also high in fibre and high fibre foods keeps saliva flowing, which helps create mineral defences against tooth decay.
Dr. Jomha recently had the opportunity to travel to Carlsbad, California to train at the ZimVie Institute. As a practitioner who places implants, he was eager to learn advanced techniques in order to provide the best possible care for his patients. During the course, Dr. Jomha and his colleagues learned how to place and restore…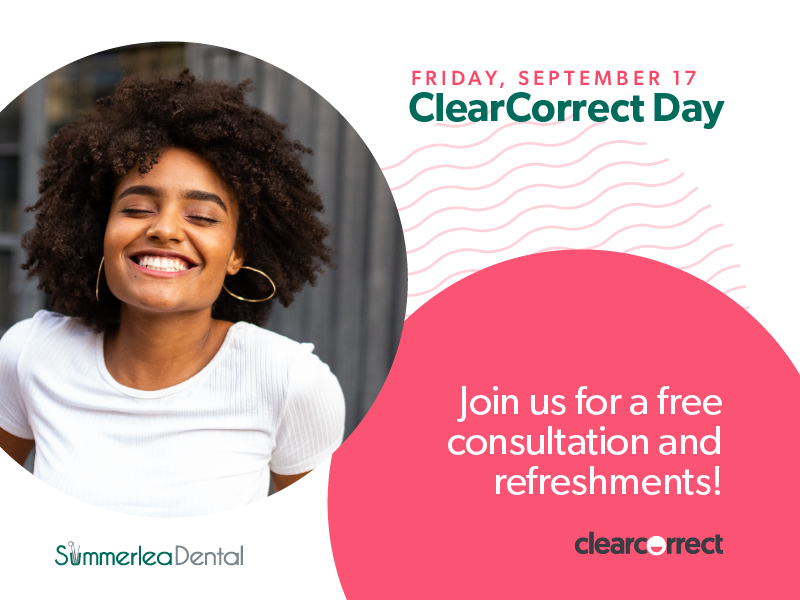 BOOK YOUR SPOT.  LIMITED AVAILABILITY Your journey to a straighter smile starts now. Join us at Summerlea Dental on Friday, September 17, 2021, for ClearCorrect Day. Our team will be offering complimentary ClearCorrect consultations, scans, snacks, and refreshments all day long. Book Your Complimentary Consult – Save your spot: mobilebooking.summerleadental.com Learn More about how ClearCorrect…