In the recent few decades, fluoride has been considered and recognized as an important defense maneuver against dental caries. The importance of fluoride has largely increased through research and trials held by many dental professionals around the world. The concept of prevention and minimally invasive dentistry takes it roots from dental fluorides.  In more recent years the use of fluoride in the prevention of dental caries has come into question.  Some suggest that after a certain age its efficacy is negligible and others are concerned abouts its safety. That being said I hold the same stance as the American and Canadian Dental Associations as well as the CDC in that Fluoride is effective and proven in the fight against dental cavities.
From dentistry point of view, fluoride is a mineral of vital importance. It gets absorbed in to the tooth structure and strengthens it by changing the basic structure of enamel in to a compact one. This compact enamel is more resistant to the attack of acids from foods and drinks and the drop in PH caused by their metabolism in the oral cavity.
In order to get benefits of fluorides in preventing dental caries and tooth decay, community water supplies fluoridation is carried out throughout the world in developed countries specially. The results are very positive in this regard and have exceeded expectations especially in those countries having a scarcity of natural fluorides in water supplies. However, a survey of water fluoride content is essential in every area before adding fluoride to the community water tanks in order to avoid fluoride toxicity hazards.
Fluoride also causes the re-mineralization of tooth structure undergoing decay at initial stages. It strengthens the teeth and bones. Bone fractures are reduced to a large extent through fluorides. You can get sufficient fluorides through different ways in your daily life such as,
Fluoride is available in tooth pastes and mouth washes. Do not swallow them to avoid fluoride toxicity symptoms. Rinse them after use,
Community water fluoridation is an important route of fluoride delivery,
Milk fluoridation is carried out in many community dental set ups to provide fluoride to infants and children prone to tooth decay,
Fluorides are also present in your environment and can be absorbed through air when you breathe,
Beverages such as green tea also contain fluorides,
Fluoride containing dental gels and varnishes are available now for professional applications.
Dr. Jomha recently had the opportunity to travel to Carlsbad, California to train at the ZimVie Institute. As a practitioner who places implants, he was eager to learn advanced techniques in order to provide the best possible care for his patients. During the course, Dr. Jomha and his colleagues learned how to place and restore…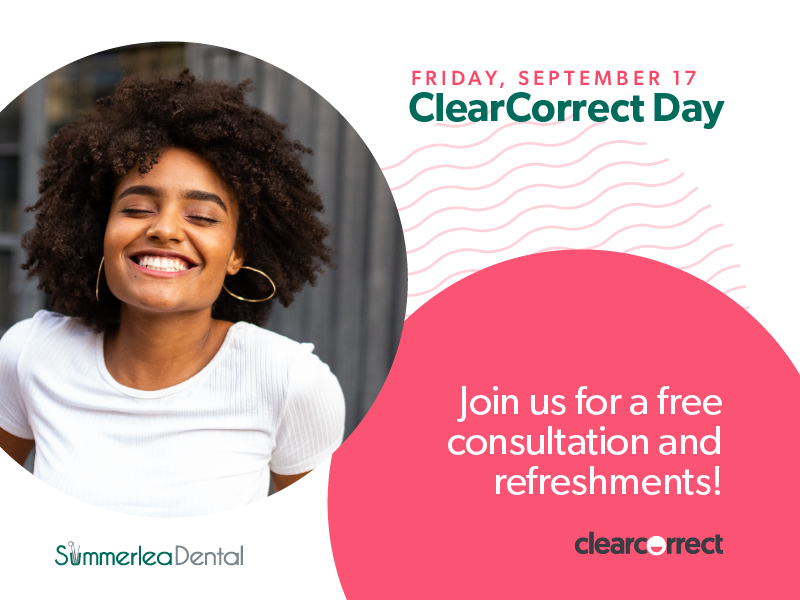 BOOK YOUR SPOT.  LIMITED AVAILABILITY Your journey to a straighter smile starts now. Join us at Summerlea Dental on Friday, September 17, 2021, for ClearCorrect Day. Our team will be offering complimentary ClearCorrect consultations, scans, snacks, and refreshments all day long. Book Your Complimentary Consult – Save your spot: mobilebooking.summerleadental.com Learn More about how ClearCorrect…