Lush Toothy Tabs Dentist Review
My patients are always asking me what is the best toothpaste to use.  For the most part all brand name toothpastes on the market are the same in terms of effectiveness.  They all contain the active ingredient Fluoride, something abrasive (to provide its polishing effect) and then some sort of flavouring. If you experience sensitivity then I recommend using a sensitivity toothpaste.  I usually recommend to the patient to choose a toothpaste that tastes the best to them.  Nowadays its hard to ignore all the alternative and natural products available on the market; especially when you consider how many products contain potentially harmful additives and preservatives.
My wife and I are big fans of Lush Cosmetics.  They sell hand made, natural products that are safe for the whole family.  At the check out we were intrigued (and a little confused) when we saw the "Toothy Tabs" tooth-tablet…not paste!  I spent a good 5 minutes thinking about how this little tablet was supposed to clean my teeth until finally the helpful associate explained the product.
Introducing Toothy Tabs, they are available in 7 unique flavours: Ultrablast, Breath of God, Dirty, Chou Chou…I love you, Atomic, Sparkle, and Aquatic.  They are to be used one tablet per brushing.  You start by crushing the tablet in between your teeth and then you start brushing as normal.  The powder mixes in with your saliva and it starts to foam up and disperse in your mouth.
I will split this review into two parts.  Part one will focus on the product concept and how I feel it works as a toothpaste alternative.  The second part will focus on rating the different flavours.  I will call on the help of my staff for this one.
Brushing with a tablet vs a paste
Personally I found brushing with a tablet kind of tricky at first.  I found most of the tablet rested on my tongue and you feel a slight burning from the natural flavourings in the tablet.  That being said after a week of brushing with the toothy tabs I am a pro!  I do feel that my teeth are smooth and plaque free after brushing and my mouth has a pleasant taste.  The tablet very quickly mixes in with your saliva and foams up nicely.  Because of this you probably want to brush over a sink as you will drool.  I also found the tablets easier to use with an electric toothbrush vs manual as it foams up more which I like.  The only qualm I have with this tooth tablet is that it is fluoride free which many will argue is a grey area when it comes to oral health.  I currently hold the same stance as the CDA (Canadian) and ADA (American) associations that all toothpaste should contain fluoride as it is proven to combat dental cavities.
Check out the photo below.  These are my teeth!  The right side was brushed with Colgate Sensitive and the left with Lush Toothy Tabs. (Note:  when I say right I mean the right half of the picture, this is actually patients left side).  Although both sides felt clean to the touch of my tongue, according to the disclosing agent (purple) the Toothy tab left a bit more plaque behind.  I think the problem is there are inconsistencies of how much of the foam/tablet comes in contact with the brush at any given time.
Pros of Lush Toothy Tabs
Wide selection of unique flavours
Active ingredient is Sodium bicarbonate( excellent for removing plaque and safe)
Easy portion control. One tablet per brush (people over use toothpaste)
Better for the environment. No tubes to throw out, and the boxes are recyclable
Great for travel
Cool factor
If you avoid fluoride: No fluoride (for some this is a con)
 Cons of Lush Toothy Tabs
Can be too foamy. You may find yourself drooling
A bit of a learning curve involved
Some flavours are too mild, may not be the best for people prone to bad breath
No fluoride (for some this is a pro)
Does not help with sensitivity
More costly then toothpaste
Flavours
My wife and I like "Atomic" and "Dirty" the most.
Atomic.  Coffee close and ginger.  It has a very distinct ginger taste.  Tongue felt numb/tingly after.  Breath smells good after.
Ultrablast.  Mild taste.  More foamy.  Not as refreshing as others.  Simple with little if any flavour.
Chou Chou…I love you.  Rose undertone with a hint of citrus.  Fresh and pleasant taste.  Floral scent.
Dirty.  Most similar to toothpaste.  Light spearmint with pleasant after-taste
Sparkle.  Light, spicy and a bit minty.  Least favourite.
Breath of God.  No distinct taste or flavour during or after brushing.  Foams really nice and clean feel at end.  Not as chalky as some other flavours.
Aquatic.  Tasted and smells like soap.  Did not like this one.
Kaitlyn found the texture to be too grainy.  She did not like the flavours and would have preferred a stronger mint flavour.  There was no after taste which was good.  She felt that "Sparkle" tasted soapy, she liked "Dirty" the most.
Amber found the product to be interesting and felt that she would need to use it more before getting used to it.  Of all the flavours she liked "Chou Chou…I love you" for its rosy undertone.  She would use them for travel.
 Conclusion
In conclusion I think this is a fantastic product that may have a place in your oral hygiene regime.  In my opinion I do advocate a fluoride based toothpaste but I would recommend this for the following:
Travel – great for travel since its not a gel.  Its small and convenient.
Looking for fluoride free toothpaste – I am not here to argue for or against the safety of fluoride   Everybody has their own opinions based on the information they have.  If you have made the decision to go fluoride free then this might be a good choice for you.
Every patient is different.  If you like this product and wish to use it I would consult with your dentist first.  Depending on your age and your dental history this may or may  not be right for you.
Adjunct to toothpaste.  I brush 3 times a day, I would use this in the morning when I brush.
And of course, any self cleaning regimen should only be considered a part of your overall dental care program. Regular visits to your dentist are essential for not only in-office care, but in determining if your home routine is adequately maintaining proper dental health. Book Now to ensure that you are getting the best dental care possible.
Dr. Jomha recently had the opportunity to travel to Carlsbad, California to train at the ZimVie Institute. As a practitioner who places implants, he was eager to learn advanced techniques in order to provide the best possible care for his patients. During the course, Dr. Jomha and his colleagues learned how to place and restore…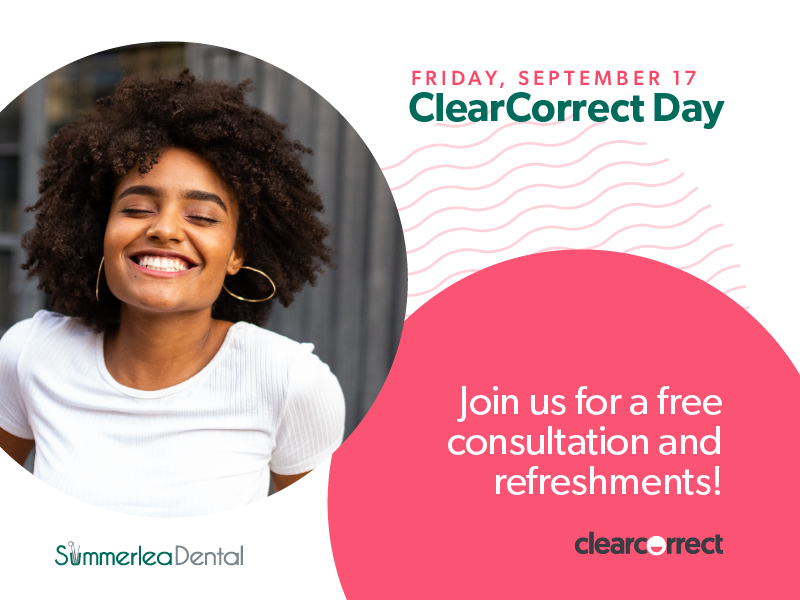 BOOK YOUR SPOT.  LIMITED AVAILABILITY Your journey to a straighter smile starts now. Join us at Summerlea Dental on Friday, September 17, 2021, for ClearCorrect Day. Our team will be offering complimentary ClearCorrect consultations, scans, snacks, and refreshments all day long. Book Your Complimentary Consult – Save your spot: mobilebooking.summerleadental.com Learn More about how ClearCorrect…