So, Your Dentist Says You Need a Crown
First off — DON'T PANIC! Your dentist isn't trying to ply more money out of your pocket, he/she is legitimately trying to protect your teeth to ensure you have long lasting, structurally sound chompers.
But what ARE crowns, and why do you need one?
Typically there are really only two reasons your dentist will recommend a crown:
Broken Tooth — Firstly, if you've broken a tooth and all you need is a crown, consider yourself extremely lucky! Many times, when a tooth breaks, the break can be severe enough to require a painful (and costly) root canal before the crown can actually be applied. The break can also occur below the level of bone, thereby rendering the tooth un-fixable. Once the broken tooth is removed your dentist will generally recommend an implant or a bridge to fill the hole of your now absent tooth — costing you literally thousands of dollars. A crown's not sounding too bad at this point, is it? Your dentist will often recommend crowns for teeth that are at risk of fracture — like teeth that have pre-existing large fillings, or teeth that are showing fracture lines (especially if you have a history of grinding or clenching your teeth).
Large Filling — Each and every time you get a cavity more of your original tooth structure needs to be removed in order to properly fill it. So, if you have a tooth that has been filled multiple times, often times there is very little original tooth left to work with. The material that your dentist uses (composite material, or "white filling") must first be bonded to the tooth with a dental adhesive. However, since there is little original natural tooth surface remaining, the bond created will inevitably be weak and the filling doomed to fail. Plus, the composite material isn't nearly as strong as crowning materials (usually porcelain or gold), so the chances that the filling or the tooth itself will break are much higher with a larger than life filling.
So, what exactly IS a crown?
A crown is like a cap that covers all or most of the parts of the tooth that are above the gumline. To get your tooth ready for a crown your dentist will numb the affected areas then remove 1 to 3 millimeters of tooth structure from the front, back, sides and biting surface. This creates a miniature tooth which allows for the space that the crown will take up. After a dental impression is made, the dental assistant will make a temporary crown for you to wear while the lab fabricates your permanent one. Once that is done your dentist will see you again to cement it into place. The average lifespan for a crown is 7 to 15 years, but, if properly cared for with regular flossing and check-ups, a crown can last decades.
Crowns are generally composed of one of four materials. Once your dentist confirms that a crown is needed, he or she will sit down with you to discuss the one that is best suited to your individual teeth.
Ceramic Crowns — Generally used for restoring front teeth, and is a popular material in this area for their ability to blend in seamlessly with your natural tooth colour. This crown is crafted from porcelain based materials.
Porcelain-Fused — This crown provides a stronger bond than regular porcelain because it's connected to a metal structure. It is also exceptionally durable.
Gold Alloys — This crown is a mixture of gold, copper and other metals. It provides a long-lasting, strong bond to the tooth and doesn't fracture or wear away the tooth itself.
Base Metal Alloys — This type of crown is made up of non-noble metals that are highly resistant to corrosion, and create an exceptionally strong crown. It also requires the least amount of healthy tooth to be removed prior to fitting.
In short, if you've cracked or broken a tooth, or have recently had a very large filling done, chances are you'll need a crown in the near future. The good news is, thanks to advancing technology, and top notch dentistry, the process is virtually painless, and can be completed in a relatively short amount of time.
For more information on crowns, or any dental procedure, talk to your dentist today!
Dr. Jomha recently had the opportunity to travel to Carlsbad, California to train at the ZimVie Institute. As a practitioner who places implants, he was eager to learn advanced techniques in order to provide the best possible care for his patients. During the course, Dr. Jomha and his colleagues learned how to place and restore…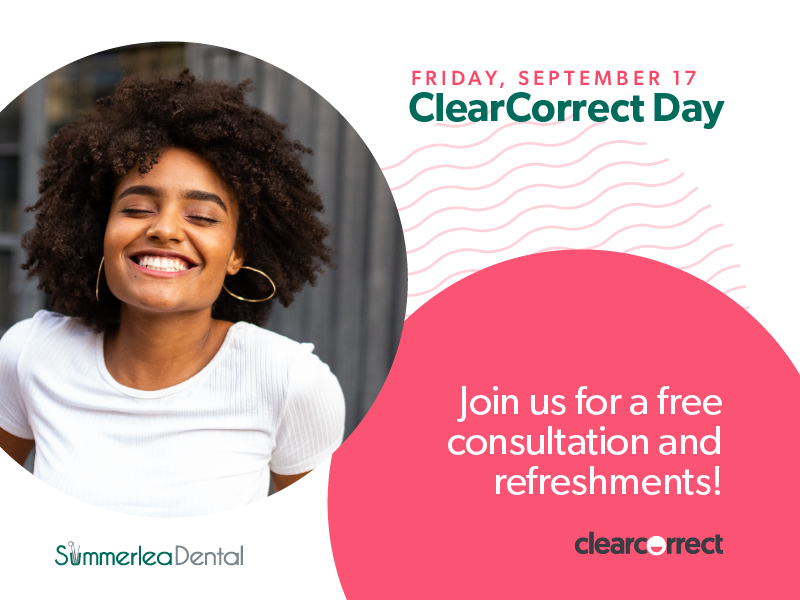 BOOK YOUR SPOT.  LIMITED AVAILABILITY Your journey to a straighter smile starts now. Join us at Summerlea Dental on Friday, September 17, 2021, for ClearCorrect Day. Our team will be offering complimentary ClearCorrect consultations, scans, snacks, and refreshments all day long. Book Your Complimentary Consult – Save your spot: mobilebooking.summerleadental.com Learn More about how ClearCorrect…