You are committed to a great oral hygiene routine — brushing your teeth, flossing your gums, scraping your tongue and using mouthwash. But are you using the right toothbrush? Electric versus regular? There are more questions than you think, let's look into what you should be considering when you get your next toothbrush.
Soft-bristled toothbrushes are the most comfortable and the safest for both gums and teeth. A medium-bristled or hard-bristled toothbrush can cause irreversible damage to the gums and remove the protective enamel of teeth, particularly if you brush vigorously.
A small or compact-headed toothbrush which can reach hard-to-access areas such as the back of your teeth and the sides of your molars.
When it comes to children, it's advised to use a child-sized toothbrush as they have a small mouth. The handle in this toothbrush is thicker for a better grip and greater control. A rubber grip also enables firmer control of the toothbrush. Teenagers can use an adult toothbrush.
If you wear braces, you can use a special orthodontic toothbrush that comes with V-shaped bristles — these bristles are designed to allow thorough cleaning around the wires and braces. An end-tufted brush, which has a very small head with several tufts of nylon bristles, can also be used to clean around braces, misaligned teeth, exposed roots of molars, and dental bridges and implants. This brush should be used in conjunction with a normal toothbrush.
It has been proven that there's a significant difference between a manual toothbrush and an electric toothbrush — both are equally effective if used correctly. An electric toothbrush may be more suitable in some circumstances; for people with limited dexterity or those who find it difficult to use a manual toothbrush. It's also better for people who tend to brush their teeth aggressively, which can harm the gums and teeth.
You should brush your teeth at least twice daily, in the morning and at night before you sleep, for at least 2 minutes each time. It's important to wait at least 30-45 minutes after a meal before you brush your teeth. This is because food reduces the pH level in the mouth and when the pH level drops, your mouth becomes acidic and brushing teeth at this time can remove enamel.
All toothbrushes should be changed every 3 months or earlier if the bristles are frayed.
Dr. Jomha recently had the opportunity to travel to Carlsbad, California to train at the ZimVie Institute. As a practitioner who places implants, he was eager to learn advanced techniques in order to provide the best possible care for his patients. During the course, Dr. Jomha and his colleagues learned how to place and restore…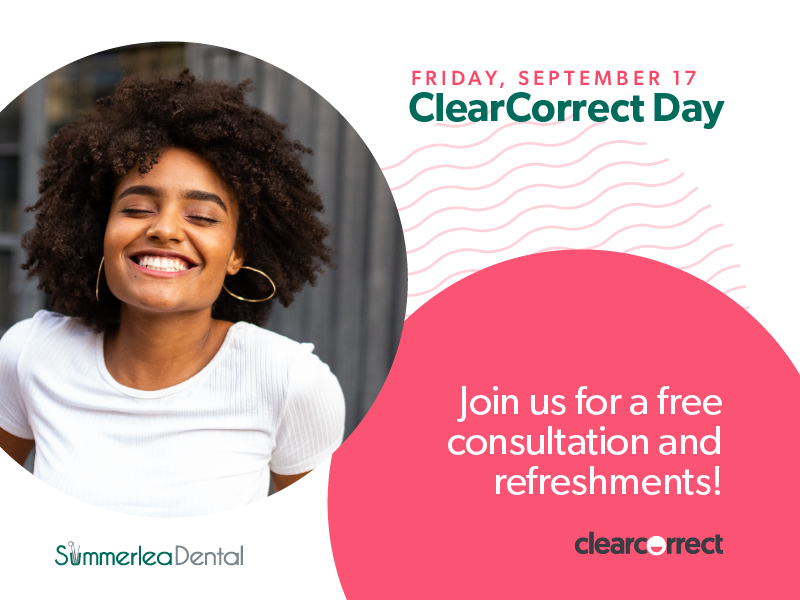 BOOK YOUR SPOT.  LIMITED AVAILABILITY Your journey to a straighter smile starts now. Join us at Summerlea Dental on Friday, September 17, 2021, for ClearCorrect Day. Our team will be offering complimentary ClearCorrect consultations, scans, snacks, and refreshments all day long. Book Your Complimentary Consult – Save your spot: mobilebooking.summerleadental.com Learn More about how ClearCorrect…