Vertical Sinus Lift and Implant
This patient presents to my office for an implant on the top left.  As you can see from the xray below there is a missing tooth.  I have labelled the picture next to it to illustrate the different structures.  Because the tooth has been missing for a long time with this patient, the sinus (air space above the teeth) has come down.  This leaves me with less bone and space to place an implant.

The Treatment plan for the patient is as follows:
1. Surgically prepare a site for an implant.
2. At the same appointment, lift the floor of the sinus and pack space with bone graft material
3. Place the implant and let things heal for 6 months
The photo on the left is immediately after surgery.  Notice that there is a hazy white bubble above the implant.  This is the bone graft material.  Eventually this material will be replaced by bone and be gone.  The image on the right is after cementing he final crown.  You may have noticed a little white speckle on the xray, this is a little bit of cement left behind.  It was removed during this appointment with floss and scalers.
Dr. Jomha recently had the opportunity to travel to Carlsbad, California to train at the ZimVie Institute. As a practitioner who places implants, he was eager to learn advanced techniques in order to provide the best possible care for his patients. During the course, Dr. Jomha and his colleagues learned how to place and restore…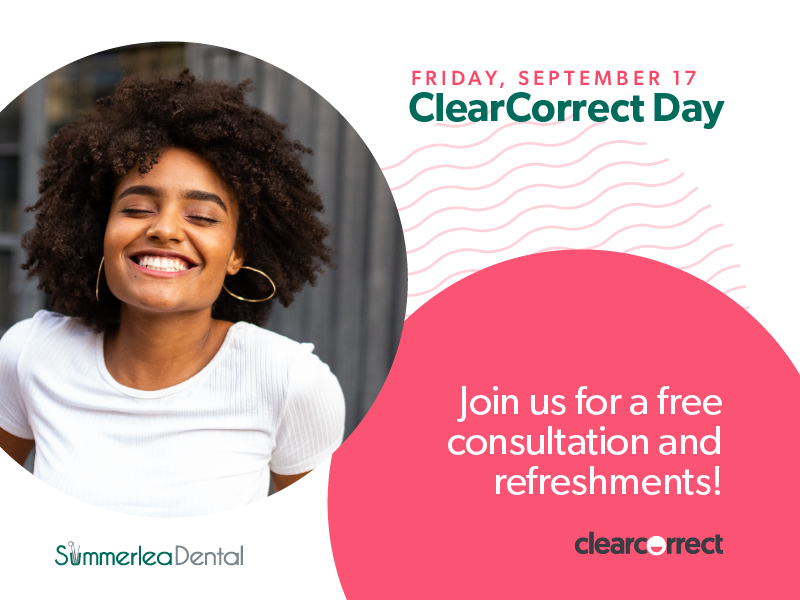 BOOK YOUR SPOT.  LIMITED AVAILABILITY Your journey to a straighter smile starts now. Join us at Summerlea Dental on Friday, September 17, 2021, for ClearCorrect Day. Our team will be offering complimentary ClearCorrect consultations, scans, snacks, and refreshments all day long. Book Your Complimentary Consult – Save your spot: mobilebooking.summerleadental.com Learn More about how ClearCorrect…