Why is Flossing So Important?
You've heard the refrain again and again from your dentist: you need to floss your teeth. Yet, unless you are one of the approximately 28% of Canadians who do floss at least 5 times a week, you aren't listening.
Maybe you will wrap some around your fingers to get at a piece of mango fiber, or an errant popcorn kernel on occasion, but really, the purpose of flossing isn't simply to remove food (though this is an added benefit for those of us who value a becoming smile). The purpose of flossing is to remove plaque between your teeth – if you think brushing alone is enough, you are currently leaving about 40% of your mouth uncleaned. Flossing makes up a significant portion of your dental care. And your dental care will determine not only the health of your mouth and the freshness of your breath, but can affect the health of your heart and the rest of your body.
You should be flossing at least once a day to make sure that you are cleaning the plaque from your teeth. However, if you have neglected this for too long, this can be difficult – a build-up of tartar can fill the space that was intended for your floss, and make the process difficult or even impossible. If this is the case, you will need to see your dentist for a professional cleaning before integrating this important habit into your routine.
You might also find your gums bleed initially – this is not a reason to stop flossing, but extra encouragement to keep doing it, as the bleeding is typically an indication of inflamed gums or gingivitis. If the bleeding doesn't subside in a few days or weeks, talk to your dentist about it, but otherwise, flossing is the thing that is going to make your gums healthier, not hurt them, so persevere.
Making flossing a regular part of your bedtime or morning routine will not only improve your smile and breath, but your overall health. It doesn't matter if it is waxed or not, flavoured or plain, tape or floss, or even a water flossing system – regular flossing is just as important as brushing, and now is the best time to start.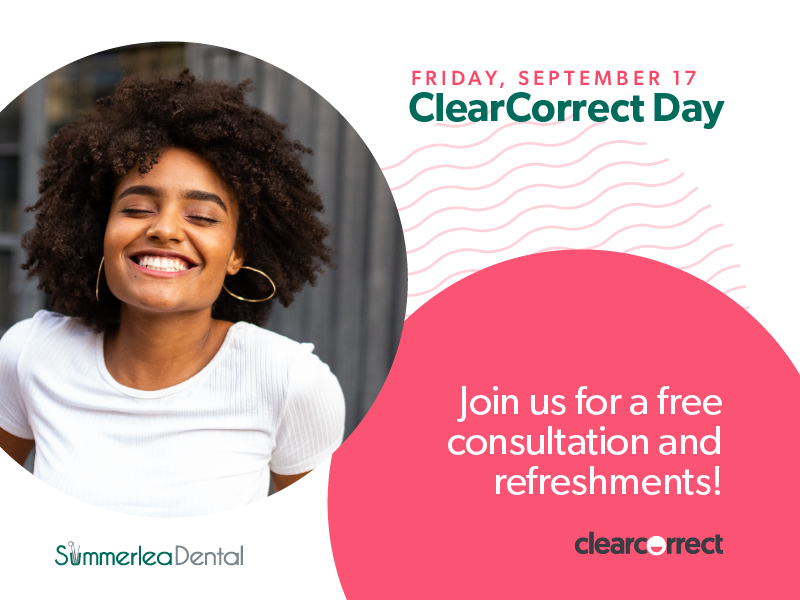 BOOK YOUR SPOT.  LIMITED AVAILABILITY Your journey to a straighter smile starts now. Join us at Summerlea Dental on Friday, September 17, 2021, for ClearCorrect Day. Our team will be offering complimentary ClearCorrect consultations, scans, snacks, and refreshments all day long. Book Your Complimentary Consult – Save your spot: mobilebooking.summerleadental.com Learn More about how ClearCorrect…
So, Your Dentist Says You Need a Crown First off — DON'T PANIC! Your dentist isn't trying to ply more money out of your pocket, he/she is legitimately trying to protect your teeth to ensure you have long lasting, structurally sound chompers. But what ARE crowns, and why do you need one? …